Reviews
Our photography holiday in Essaouira has also been featured in the Guardian, Times Online, International Lifestyle Magazine and What Digital Camera in January 2016. Click on the photo and scroll through to read the full article.
Continue on for reviews of our Creative Holidays learning photography.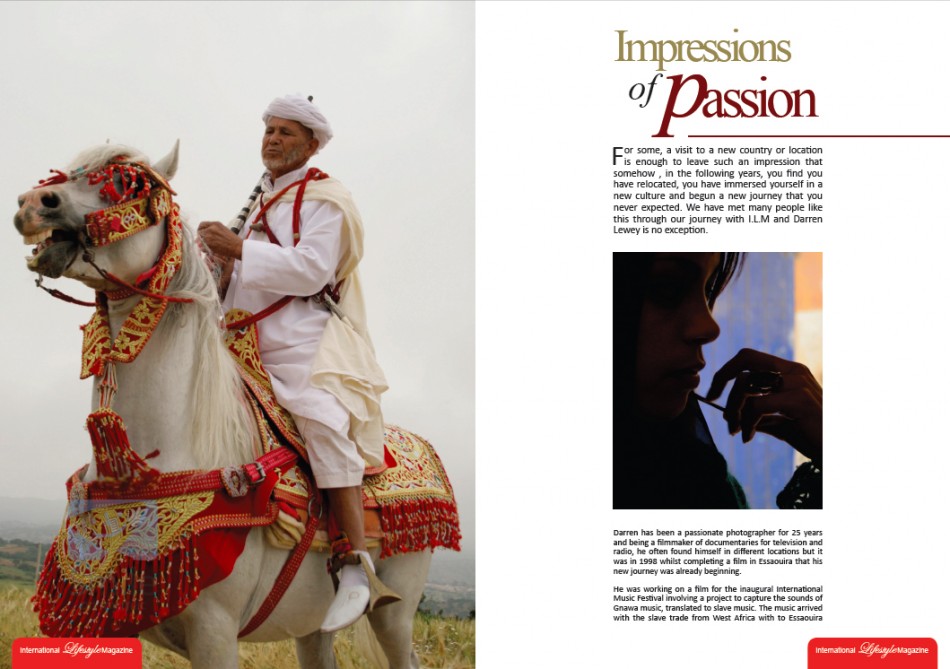 We were awarded a certificate of excellence for Trip Advisor in 2014. 
We are just finishing our 10-day tour of Morocco guided by photographer Darren Lewey. What a treat! Not only he took us to very special and unique places where very few tourists go, but gave us excellent tips and instructions on how to take better photos. If you want a memorable trip to Morocco and very reasonably priced, we highly recommend Darren Lewey.
As a beginner to SLR photography, with a new camera, the initial days were challenging but I was really pleased with my improvement from Darren's guidance. In a group of 3 we had a good level of feedback. I particularly appreciated the wide variety of settings we visited to photograph. As a solo traveller it was a great holiday. The people were friendly, and it felt safer than many European cities. Max, January 2018.
I would like to reiterate how great a trip it was sharing with you, Chuck and Tom. I shot about 17,000 images and have made an edit of 1,200. Cosmo Condina, High Atlas & desert tour, May 2016.
An excellent week with Darren Lewey who provided coaching and tuition geared to individuals' experience as well as guided visits to great locations. Peter, Oct. 2015
Essaouira was a great place to visit with lots of photographic opportunities and a fantastic tutor. I would highly recommend it. Michelle Falcon, June 2015.
As a beginner, nervous of how much I'd get out of one week's photo tuiton. But Darren struck a very good balance between tuition, visits & relaxation. The riad and restaurants he'd arranged for us were all in the medina & good to relax after busy day. Really pleased with how much I learnt, recommend. Barbara Anscombe, April 2015.
Darren is a superb photography teacher; I am amazed at what I was able to learn from him during the week. Mary Doyle, December 2014.
Just got back from a great week in Essaouira on Darren's photography course. The riad was lovely with attentive staff and a lovely roof terrace. Darren's tuition was good, pointing out our strengths, lots of technical advice and guidelines for improving composition and execution. Everyone in our group of 5 improved through the week as a result of having the room to go beyond our comfort zones and try new types of photography (reportage and portraits for me). The best thing about the experience was getting to know the group and we're already planning to meet up and take more photos now we're back in London! Kimberley, August 2014.
Darren was an excellent tutor. As a beginner, I was unsure about the technical aspects of photography, but Darren took me through the most important things and I felt that I quickly progressed from there. Darren also went beyond the tutor remit and was willing to help me out with anything during my stay. The accommodation was great, as were the staff at the riad. Would recommend that anyone pondering a photography holiday starts here! Keeley, August 2014.
An excellent photography course with real content as well as a holiday. The course included theoretical elements followed by practical applications in great locations. I was new to DSLR and found this course ideal. Quintin Rayer, April, 2014.
Many thanks for all your input (and patience !) this week. I thoroughly enjoyed it and really feel I learnt a lot as well. Very much appreciate all the time you put into working with us individually. I hope the Atlas trip goes well. Meanwhile, I'll start looking for London arches. Alan Mathers, April, 2014.Alan, April 2014.
Darren is a great tutor, very patient with questions from a DSLR novice (me). He also showed us around some great places in and outside the Medina to take photographs and introduced the group to some superb restaurants which we wouldn't have found otherwise. Highly recommended. Karen, Sept. 2013.
Thank you for a wonderful time. Such a fantastic experience! Cecily, April 2013.
Brilliant experience! Darren's patience and expertise makes him an excellent teacher. I now know what the settings on the camera are for and was delighted with the photographs I brought home. Darren's knowledge of Morocco enables you experience the culture, villages and landscape in a way that would be almost impossible for the normal tourist.  Great photography holiday for singles and couples alike with all the everyday necessities arranged, making the ability to learn and enjoy so much easier. Thank you Darren. Cesca Haskins, March 2013.
Great location and Darren is a first class tutor as well as being very friendly. Will remember about key lines and Darren's tips about placement of people within the frame. It was also great to be pointed in the direction of some brilliant locations/people. Also has the benefit that his lovely wife Naima can teach cookery for those interrested. We all had a great time and learned a lot.  Peter Wyles, February 2013. 
Went to see Darren for something different. Saw the chance to learn something more about photography and to take some "different" pictures. Holiday exceeded my expectations with good tuition and some excellent photo opportunities. Very interesting area with many different aspects.  Dave Atherton, January 2013.
I joined Darren and Naima for a week's cooking over the New Year period. From first contact Darren organised all aspects of my trip (transfers,accommodation and evening meals) with professionalism and the sort of attention to detail that is particularly appreciated by the lone female traveler. I felt in safe hands at all times. Shopping expeditions and cooking classes were organised by the elegant and thoughtful Naima who was able to teach me some of the basics of traditional Moroccan cuisine in a welcoming domestic environment. She is a great teacher and I came home inspired to use all the spices I had purchased in Essaouira. Naima was also very helpful in negotiating some bargains for me in the souk.  Highlights of my week included a trip to a traditional rural souk and helping Naima prepare a traditional Friday couscous feast – time consuming, but worth it! Whether you are interested in a day or week- long course I can recommend Images in the Sun as a great place to learn more about Moroccan cookery in a relaxed and welcoming environment.  Roana, January 2013.
Darren gave expert advice throughout and took us to some amazing places, I'm thrilled with the photographs I took. You can choose to do a day walk or a whole week of photography. My highest recommendation! Julieanne, Dec 2012.
I chanced upon this photography course and am very pleased I booked.  Darren took time to explain how to use my camera to achieve better photographs. Thanks to this course I have moved from the auto setting to the TV setting. With Darren's support we were able to photograph many aspects of this city and it's working fishing port.  Being a small group was very beneficial as we all were able to have one to one time with Darren, our cameras and looking at the days images. Learning how I could have improve the image. Each day had a different theme portraits, abstract, landscape etc.  We also had a good tour out to the souk held in the countryside.  In the evenings Darren organised our suppers in various little eating places, time to enjoy local food, and discuss the days events I was travelling on my own and felt very well looked after, even had a music lesson arranged! Great holiday with great tuition, many thanks Darren.  Alison, January 2013.
A very good course and highly recommended. Linda, Nov 2012.
I learned so much from this course. Darren was an excellent tutor, helpful and patient. He took us to a variety of locations to practise different types of photography. The wonderful colours in and around Essaouira were just made for photography. Anna, Oct, 2012.
As this was my first solo holiday, I was very nervous, but I had a wonderful time. Everyone was so friendly and I feel much more confident with my camera and my ability to get the shots I want. Alison, Sept. 2012.
Thank you again for everything – it was truly an adventure every day and a great learning experience – exactly what I wanted. Kristin, Sept. 2012.
I can't speak highly enough of the week in Essaouira. The logistics worked perfectly- pick-up, transfers, accommodation (nice people, great location, comfortable rooms and open spaces). As for the photography tuition – I've taken photography courses before and Darren s approach was perfect for me. He accompanies you in the most useful way – focussed around whatever the topic of the day he makes suggestions about what you might photograph and then leaves you to decide and work as you want. His doesn't overcomplicate the workings of the camera and has a commonsense way of explaining the intricacies of photography. He's enthusiastic and encouraging without being overwhelming. The week was a perfect mix of tuition (I learned so much more than I expected) and time out in a fascinating place. And as for the day cooking with Darrens wife Naima – it was simply special. She is delightful and a great teacher. After this experience I'll definitely be taking the Atlas Mountains trip. Isabel, Aug 2012.
Brilliant tutor and fantastic location. I came away with an increased knowledge and passion for photography and yet felt very relaxed from the holiday. Joanne, July, 2012.
My wife & I enjoyed an excellent week with Darren improving our photography skills. He was flexible with his approach to us (both beginners). We were lucky having no-one else on the tour for 3 of the 6 days. Darren has a huge amount of experience of photography coupled with a lot of local knowledge of Essaouira. This enabled us to take photos and get to locations that we would not have as tourists. We thoroughly enjoyed our time and would recommend this tour for beginners as well as experienced photographers. Details of the course are on his website, and as a bonus he puts up a selection of your best photos. Neetul & Anju, July 2012 Trip Advisor review.
Thank you for such a brilliant holiday, I really enjoyed the whole experience and I intend to continue to use my camera to take better pictures than I ever have before after your calm and inspiring teaching. Thank you also to Naima for the great cookery lessons, my tagine is sat in my kitchen ready for my family to come to eat one of her fabulous tagine recipes. Thank you again for the wonderful holiday, one of the best that I have had. Annette, June 2012.
Thank you again for everything – it was truly an adventure every day and a great learning experience – exactly what I wanted.I have never been to Morocco before but Maison Du Sud certainly gave me the taste for it… The interior is amazing very traditional but still have the homely feel. The Staff were very friendly and very welcoming… they made the stay very relaxing and most enjoyable. Darren was a fantastic teacher and gave us a trip to remember taking us to places which were "hidden Gems". I have learnt a lot from him, composition and framing has improved massively and i have regained my passion for Photography. I would recommend this trip in a heart beat. Thom, May 2012 Trip Advisor Review.
I have just returned from one of the best holidays ever! Maison du Sud is perfectly situated in the centre of the busy Medina of Essaouira and yet once you step inside the riad you are greeted with a wonderfully calm and relaxed atmosphere. The hotel staff are all extremely friendly and helpful and the rooms clean, comfortable, spacious and full of character…Darren is a fantastic tutor, with seemingly endless patience and encouragement he taught me how to get the best from my camera, through both technique and composition. In addition to the photography I was lucky enough to spend 2 great days cooking traditional Moroccan dishes with Darren's wife Naima. Darren and Naima were extremely generous hosts and both went to great lengths to ensure that my visit to Essaouira was one to remember. I can't recommend this holiday highly enough and am hoping to return next year! Kate, May 2012 Trip Advisor Review.
Carine and I would like to say thanks for a wonderful experience, the organisation was excellent, the locations fantastic and the photography lessons an inspiration. Its hard to put into words how much we learned as photography is a huge subject, but with your help and guidance you helped me significantly improve me understanding without making this vast subject too daunting. You kept it simple, pragmatic and fun & and the improvements are easy to see. Thanks to both you and Naima for a wonderful time & unforgettable holiday. Gordon & Carine April 2012
I thoroughly enjoyed my week in Essaouira absorbing the atmosphere of this fascinating place through a telephoto lens. Darren was a patient, helpful and constructive teacher who helped me to use my camera to much greater effect. I would recommend this course to anyone who is interested in developing their photography, regardless of their ability. I definitely learnt loads and have returned fired with enthusiasm to take even better pictures. Tricia February 2012
We went out on 4 days for the excellent cookery course run by his wife Naima and joined the photographers in the evenings and on a day trip to the countryside…We had a great time making home-cooked Moroccan food with Naima and joining Darren and the photographers for their day out into the countryside and in the evenings. Lesley & Gerry January 2012
The standard was really high on the course which forced me to a new level. I was happy with what I managed to do in a short space of time thanks to your advice Darren. Stephen December 2011.
Altogether an extremely enjoyable experience. I can say no more than that it exceeded my expectations so far as both the photography and cooking were concerned. Marian December 2011.
Just a quick note to say thanks for a great week in Essaouira. I am really pleased with some of the photos I took, and my friends and family have been looking at the galleries today. Anita Nov. 2011.
I admired your patience and your ability to explain complex topics in a simple manner. I really learnt from your feedback as to the importance of sharpness and good composition. The night photography class was fantastic. Ciaran Sept. 2011.
I signed up for a photography holiday with Darren Lewey and the accomodation was in this gorgeous Riad. Located in the heart of the medina and close to the port, it is in an ideal location and the staff are attentive and kind. I had a lovely rooftop terrace room which was spacious and cleaned every day. The photography course was one of the best things I have ever done. Darren is a great teacher and somehow managed to get me taking the photographs that I had always dreamed of taking but never thought I could! The town is beautiful, so relaxed and the people generous and open. I would recommend the Riad for a holiday, the photography course for anyone wishing to progress with digital photography and Essaouira itself for a releaxing break away from the rush of Marrakesh! Susanne August 2011 Tripadvisor
I have had a good camera for years, but while I understood how to use it, my pictures were unremittingly dull.  Darren has managed to combine the fun and relaxation of a holiday with a complete course in all the elements of the photography.  We have toured the Moroccan countryside, visited souks, stood atop waterfalls, and walked the ramparts of fortified towns.  Often we were the only Europeans in sight.  From the technical to the artistic, we have covered everything, and have done so at my pace (thanks Darren).  I left the holiday feeling that, at last, I could compose an image which would not embarrass my camera.  While the accommodation was superb, the food great, and the town lovely the real highlight was that this course did what it said on the tin – I left a much better photographer than I was when I arrived. Craig May 2011 Tripadvisor
Booked through Darren Lewey of Essaouira Images photographic holidays so didn't know what to expect. Stayed for 11 nights in a room on the beautiful roof terrace. The riad turned out to be a delightful place, full of charm and character with very friendly and helpful staff. Felt more like home than a hotel. Took breakfast in the sun on the terrace amongst the gulls which was lovely. Found the ground floor dining area on the cool side although this would be a benefit later in the year. Martin March 2011  Tripadvisor
I have just returned from a fantastic week staying at this wonderful riad, whilst on a photography course run by Darren Lewey…The photographic opportunities in Essaouria are outstanding. Darren is a great teacher who organises workshops on different styles and takes you round and shows you the real Morocco off the tourist track.  He really has a knack of bringing out the best in you.  I came back with photographs far exceeding my expectations – especially as the whole week had been so much fun I hardly felt like I was learning!! I would highly recommend both the hotel and the course. Niki Feb 2011 Tripadvisor